A typical day of my life can be pretty hectic at times, but also quite fulfilling. I start the day with fresh orange juice or a cup of Pickwick Cinnamon or Honey tea and usually a 'boterham' (=sandwich), always 'volkoren' (=wholeweat) with 'belegen' (=aged) cheese and a slice of ontbijtkoek (=spice cake). I also love
De Ruijter Milk Chocolate Flakes and Calve Peanut Butter
. Although I love to try foreign dishes, I notice that I do really miss my typically Dutch breakfast items whenever I am on vacation abroad (more about that later).
Then, it's time to get started on all the orders that were placed. First, I sort the boxes (recycling!) and if they pass the quality check (insert me squeezing the boxes to see if they are firm enough), then they will be filled with the most delicious Dutch items :)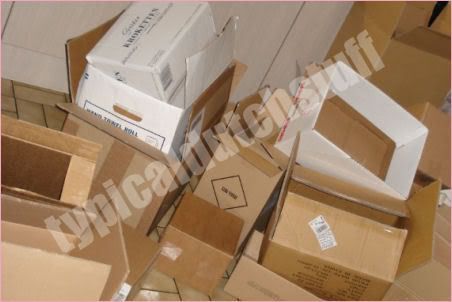 Next, all the products will be selected and sorted for each order, which ends up looking something like this (although this is only a small part of our space):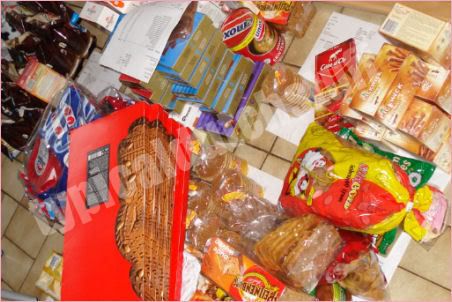 Now it's time to pack all the stuff into the boxes, carefully filling it with bubble wrap and taping them shut; pretty straightforward stuff. However, we also spend a lot of time on our gift baskets, because we want them to be as pretty as possible! We have our in-house gift basket specialist, Lian (who also writes a column for TDS), usually comes up with the most beautiful creations!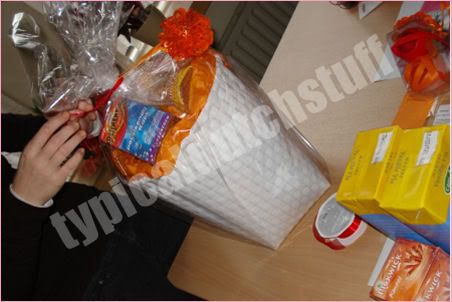 I have to admit, I have a major sweet tooth, so whenever someone's helping me during the really busy days (mostly Lian or Mary jane), we tend to eat quite a bunch of licorice and chocolates. However, most of the time I take care of the orders all by myself and then I am way to busy to snack.
Here's a snapshot of the end results of some of our gift baskets (the
Dutch Delight Basket
, and the
Mom's Basket
, )
Remember what I told you about me missing my precious Dutch breakfast items whenever I am abroad? My solution for all of you who also miss a typically Dutch breakfast at times: the
Begin-Your-Day Basket
, which includes all the popular and most common breakfast products in this basket. Beginning your day has never been as Dutch as now! Includes hagelslag, vlokken, peanut butter, ontbijtkoek, roggebrood, cheese, chocomel, jam, and many more delicious products.